Who doesn't love Pirates? Well, ninja's I suppose.
After watching 'Master and Commander' umpteen hundred times, it seems last year there was a skirmish game made that was right up my alley. I have never been a ship modeler before and this game gave me new respect for those old farts who build ships of all sizes because you can not only skirmish around ports of call with your mateys, but you can call out to your enemy that he should prepare to be boarded as well.
Since everyone mocks the french and wouldn't make a french crew to save their lives, I decided to take the path less trodden and make me a nice frog privateer crew.
Here is a few models I painted last year to play this game which seems to have a sudden resurgence of interest lately.
This one is my favorite so far. An old, psalty Jamaican who was press ganged while the crew were in the Spanish Main.
Next up is a (now)former slave who was taken as part of a prize from an English ship on their way to the Spanish Main.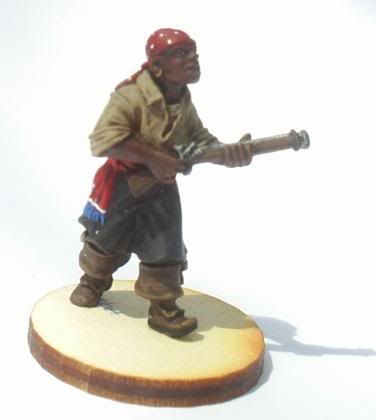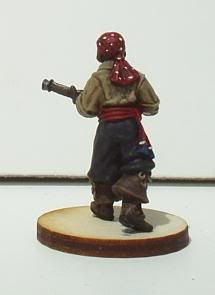 After painting these two dark skinned models I have found I vastly prefer to paint darker complected flesh than Caucasian flesh.
It makes me want to paint a whole crew of Barbary corsairs.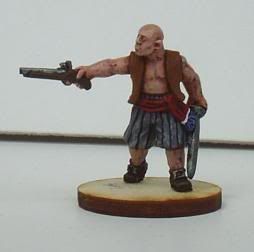 Pastey white frogs are a pain to paint, so this guy looks not so hot in my opinion, but he works as a large thug.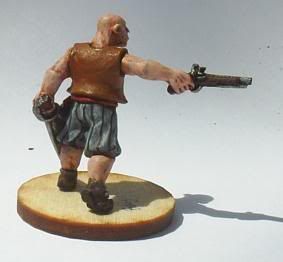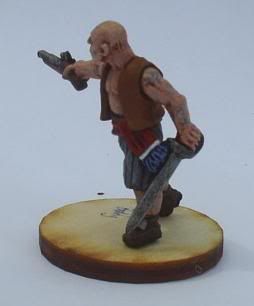 I even gave him a couple tattoos to try and alleviate my apparently noobish skills at painting Caucasian flesh.
Last but not least is my little sloop you start the game with. This is scratch built out of balsa and basswood. I named it 'Le Colibri'
(The Hummingbird)
to show how light and maneuverable the ship is.
The mast and the rigging attached to it is removable from the post sunk into the deck which is painted to appear to be wrapped with tar covered rope.
Being able to remove the mast is great as this model is meant for gaming and allows easier access to the models on the deck.